WebStringers' Coverage of Hurricane Irma
WebStringers' Coverage of Hurricane Irma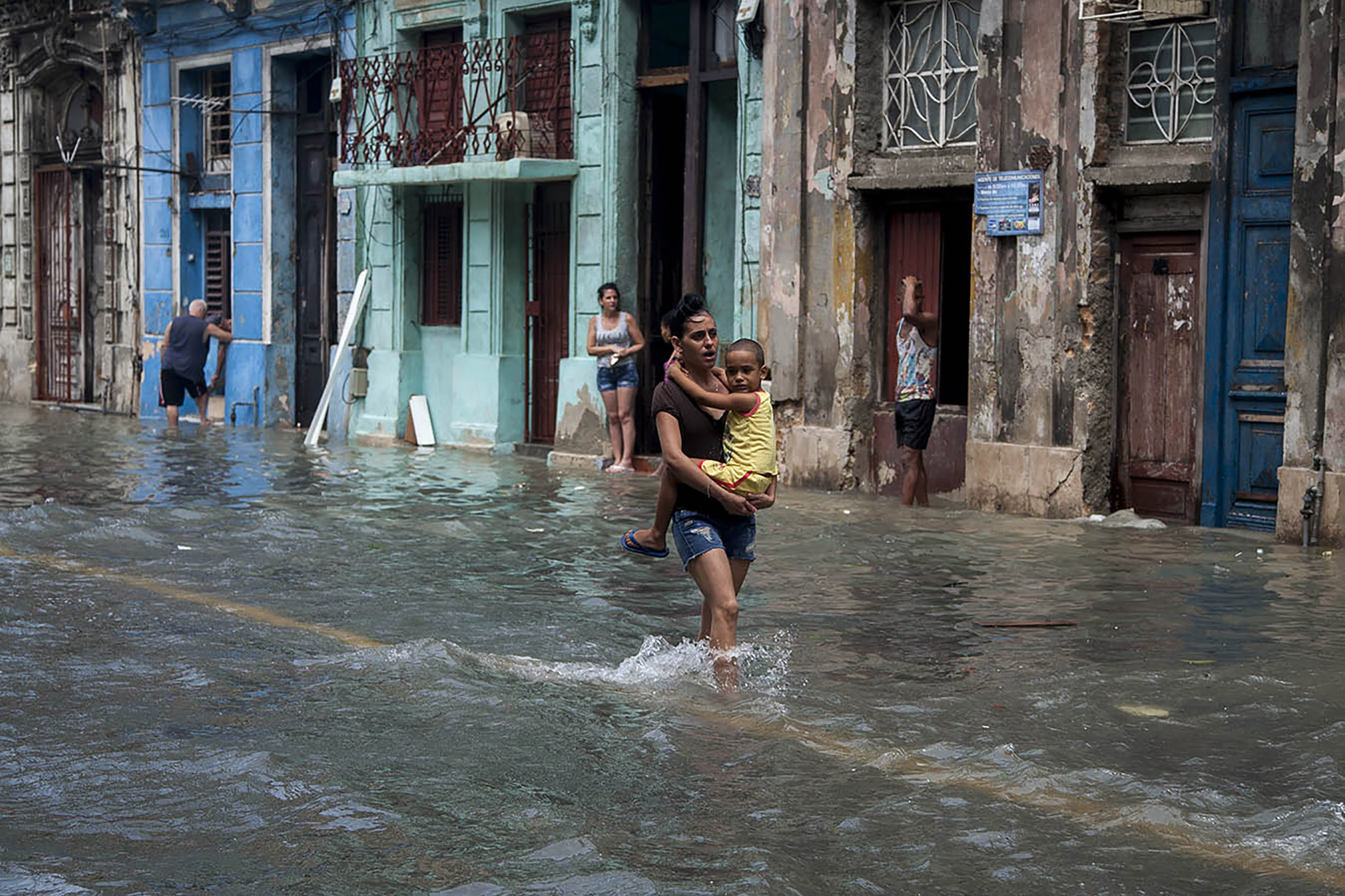 A mother carries her son during the floods in Havana
From September 8 through the 10th, Cubans living in the northwest region of the country experienced a devastating natural disaster. Category 5 Hurricane Irma hit land from Camaguey to Artemisa, sweeping buildings, houses, businesses, farms, century-old trees and unfortunately, also causing the loss of human lives.
Disinformation and disbelief led to overall unpreparedness
Our reporters in Camaguey, Santa Clara and Havana initiated coverage as soon as the probabilities of a hurricane's strike started to arise. Just hours before the hurricane touched land at Cayo Romano, in the Camaguey province, citizens were still poorly informed about the dangers of such a phenomenon.
Most citizens, especially those living in the western provinces, did not expect a strong impact and were going about their daily routines, just making sure they had enough non-perishable food in case of an electricity outage.
Our reporters interviewed them, and in some cases notified them of the real situation taking place. Some answered in disbelief. Some complained the authorities were not being as precautions and informative as they would expect them to be. "I just left school and they didn't tell me any of this, I'm finding out through you," one interviewee said.
Powerfully slow
Unfortunately, the storm proved to be stronger that anyone had expected, and, instead of following the forecasted northbound slope and just barely touching the island for a short time, as meteorologist had predicted, it actually went right into land very slowly, destroying everything in its way for two days.
"It simulated a chainsaw. It was a very strange noise. The avocados fell on the fiber roof we have in the back. One after another. The antenna flew. The roof was lifted up at the house across from ours," said a neighbor of the Los Syrios neighborhood of Santa Clara.
The monster storm left a trace of destruction and despair. It was all dark and disastrous in the affected areas. The official National Defense Council announced 10 fatalities although citizens believe that number is very conservative. Over fourteen thousand houses were destroyed and more than one hundred forty thousand others were partially damaged. Private and state businesses were also affected; hundreds of hospitals, schools, hospices and public facilities had to be closed down and many remain shut today.
A young boy carries his sister during floods in Havana
Dangerous yet precious coverage by the WebStringers team
Despite the lack of electricity and Internet connection, our reporters took to the streets during and after the storm in order to gather exclusive footage of the catastrophic event. They defied strong winds and rising floods in their quest to find valuable testimonies to share with the rest of the world.
Travelling through the devastated areas, they quickly found out and were among the first to report about the fatalities caused by the fall of decadent buildings. They visited the most affected towns and neighborhoods and encountered residents eager to share their unfortunate accounts. Many of them faced serious challenges as they had lost their houses entirely and had no food or water left. Our reporters felt a strong responsibility to report on these conditions and call on the attention of the authorities to request help for these struggling families.
"I just want to ask authorities ¿how much longer will they leave us here, living in the streets, without a roof?", asked a grandmother surrounded by her grandchildren who had not been able to attend school for eleven days.
A Havana neighbor looks at the havoc left by Hurricane Irma at a building where two people died
Uneven recovery, costly donations
The recovery has been slow for the most affected citizens. Although help from international communities and organizations was immediately sent, the Cuban government prioritized the recovery of the tourism establishments over that of the disadvantaged families. Furthermore, our reporters were able to show how the donations, instead of being delivered to those in need, were being sold at high prices.
"How can a government receive foreign donations for free and sell them to its people?," asked a Havana neighbor. "¿Who can pay a thousand pesos for a mattress?", asked another.
Although some were scared and coerced by authorities to refrain from making any claims, most citizens denounced to our cameras the corruption and lack of compassion by the authorities, which forced government to publish a series of news articles on the official national newspaper Granma, where they first tried to convince the people that the charges were just the logistical costs of delivering the products, and in the end, after many reports by our journalists, announcing the products will be given at no cost.
Once again, through this storm, the practice of uncensored journalism prevailed in favor of the people and despite the intents of authorities to silence it.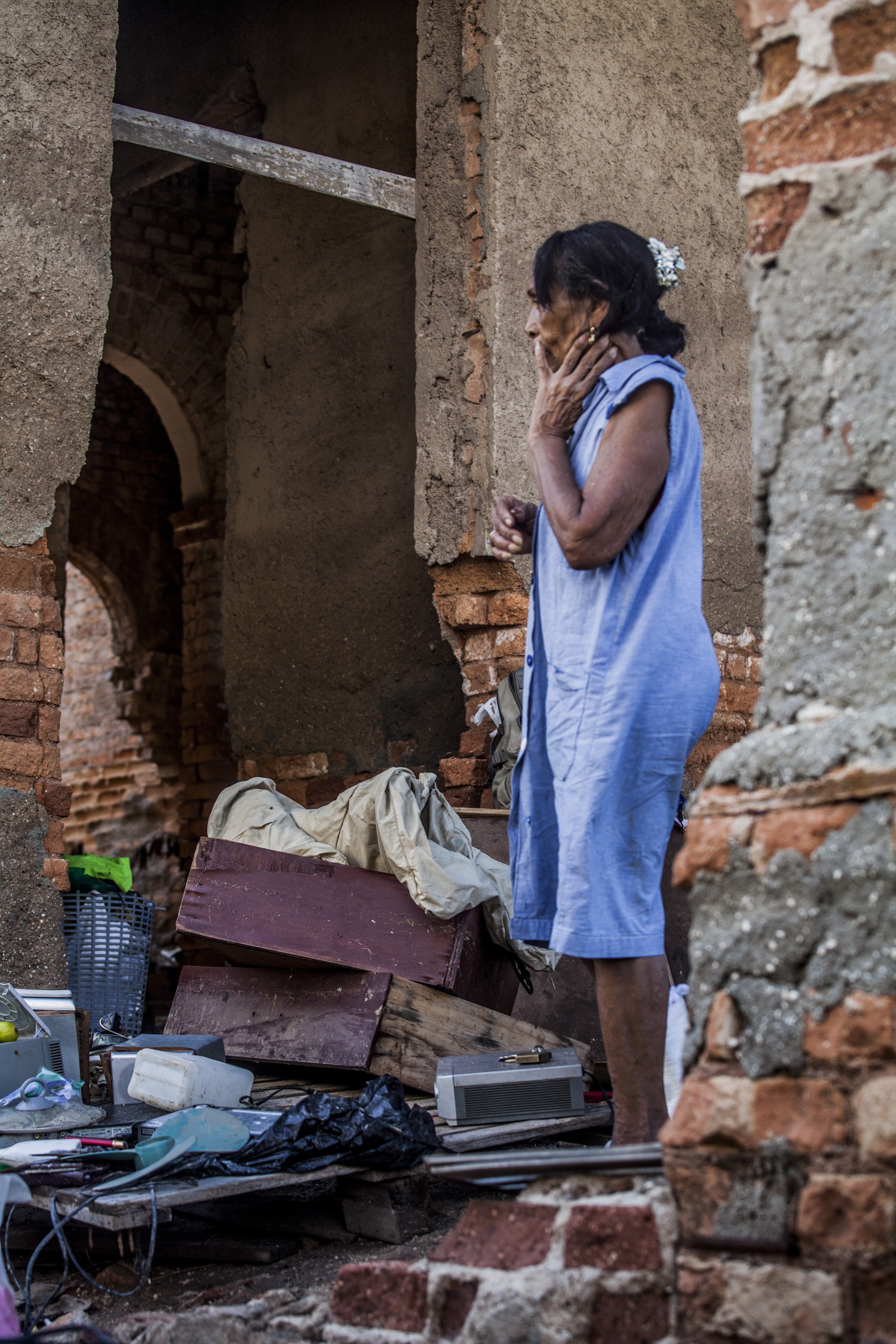 A woman stares at the remains of her house