WebStringers Iraqi crew films "The Battle for Mosul"
WebStringers Iraqi crew films "The Battle for Mosul"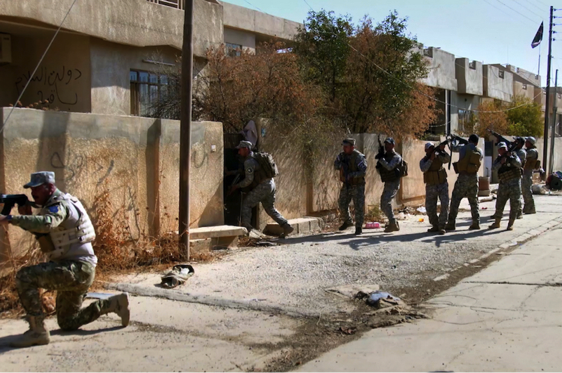 With over 100,000 Iraqi soldiers slugging it out against ISIS fighters, the battle for Mosul is the largest single combat operation in the Middle East -- and a WebStringers documentary film crew has been in the thick of it for the last seven months.
Our field production crew, led by veteran Iraqi journalist Ali Mula, was first embedded with Iraqi forces in the fall of 2016 during operations in Nineveh province and east Mosul. Recently, the crew crossed the Tigris River into west Mosul, where die-hard ISIS fighters are holed up in homes, hospitals, schools and mosques and using civilians as human shields as they make their last stand. Under fire and on constant lookout for ISIS suicide car bombers, our crew has taped hundreds of hours of combat photography and dozens of interviews with Iraqi soldiers, Mosul residents, and refugees fleeing from the devastation. Remarkable characters--like an ISIS-hunting grandmother, a Christian captain returning to his ransacked church, a wounded militia fighter betrayed by promises from Iran to receive medical care—share their stories of horror, survival and hope.
Ali and his crew focus on how the Iraqi Army, Sunni tribesmen, Shiite militias, Kurdish peshmerga and others are putting aside sectarian differences and uniting against the Islamic State. After ISIS is ousted from Mosul, many observers believe a bigger battle is yet to come when the victorious sects vie for control of Iraq's second-largest city. Much of the city has been destroyed in the fighting and more than half of the population has fled. Amid the ruins of Mosul, rebuilding trust could be harder than rebuilding the city.
When the liberation of Mosul has been completed, WebStringers will produce and release a feature-length film documenting this historic battle and the people who fought it. First-look footage of "Mosul" was screened in Cannes at MIPDOC in early April, and can also be viewed on Vimeo and the WebStringers website.
See some sneak peek photos below: